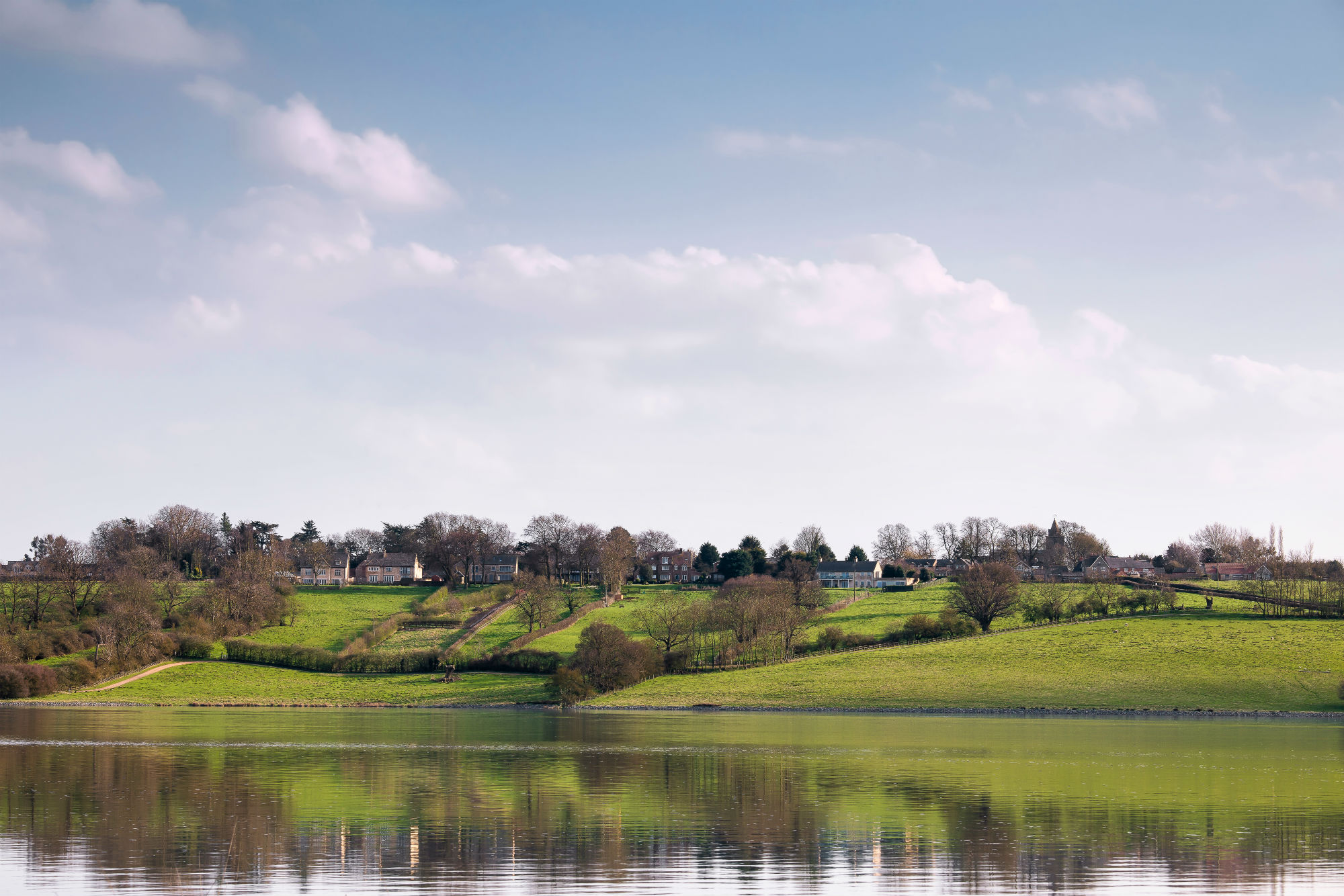 Hambleton – a millionaire's playground?
Published May 6th 2020
4 mins read
Situated 3 miles away from Oakham on a peninsula jutting into Rutland Water, the pretty village of Hambleton has always attracted a more genteel type of resident. Houses in the village are generally very attractive and the rolling countryside fringing the expanse of water is not dissimilar to some parts of the west country.
In addition to the aesthetic appeal of the village, Hambleton also has a popular gastropub in the form of the Finches Arms and Hambleton Hall, the prestigious Relais and Chateaux hotel and restaurant.
In the height of summer, some would say that there are a tad too many hikers and cyclists but away from peak season, life in this idyll can seem very appealing indeed.
Perhaps it is not surprising therefore, that in recent years Hambleton has started to appeal to the super-rich. Indeed, a prominent local businessman is currently building a mega property overlooking the south shore, reportedly spending tens of millions on a lavish abode. This follows in the footsteps of another family who completed a very large property overlooking the water just a few years ago.
Buying property in Hambleton
Property in Hambleton does not come up for sale very often with only 5 homes having been sold in the village since April 2018, according to the Land Registry. Properties tend to attract a premium even without views of the water which inflates prices even higher. For example, a pretty modernised cottage in the village sold for £395 per square foot at the end of 2019. Contrast this with a much larger modernised manor house in the nearby village of Manton which sold for £294 per square feet and Hambleton effect can be seen.
At the time of writing there are a couple of off-market prime properties being offered to a select few. These unique properties have the ambitious price tags of £3.5 and £5+ million respectively and whilst these numbers are out of kilter with other prime properties in the area, the exceptional appeal of Hambleton to the super wealthy means that the price tags might just be reached.
This said, wealthy buyers do not seem to have lost their heads when assessing Hambleton as one of the few remaining plots of the front edge of Rutland Water (admittedly with another ambitious asking price) has been on the market for many months despite having wonderful views and full planning permission for a substantial home. Anyone interested in this 2-acre plot should expect to pay well over £1 million for this site and plan to spend the same again on earth removal and building – reinforcing the argument that this is a 'playground' for those with deep pockets.
Living on Hambleton
For the lucky few who are able to call Hambleton home, a list of 'nice-to-haves' is as follows:
Views of the water, enhanced by occasional awe-inspiring sunsets and annual arrival of migrating Ospreys
Sunday afternoon locals' drinks in 'The Finches'
Exceptional dining at 'The Hall'
Easy access to excellent schooling at nearby Oakham School, or a little further, at Uppingham School
Lovely walks around the peninsula
Hambleton is not without its shortcomings. Visitors frequent the village, especially in the summer months. Commuting to London is also not particularly easy and likely not suitable for travelling to the capital on a daily basis as Oakham station is on a branch line and the nearest mainline terminals are 30 or so minutes' drive away at Grantham, Kettering and Leicester. As with many waterside locations, close to the foreshore in summer you can also be plagued by flies.
So, Hambleton is not perfect but if you are a sucker for views of the water and being surrounded by beautiful countryside it could be pretty close. Most people who choose this part of the country to call home do not need to commute into London daily so the ability to travel there by train quickly is unimportant.
The history of Hambleton
History tells us that there is evidence of Hambleton being inhabited reaching back to Saxon times and the village which evolved over the centuries was split into three distinct parts; Upper, Middle and Nether Hambleton. This remained the case until the 1970s when the construction of Rutland Water led to compulsory purchase and flooding of the latter two.
It is said that the residents of Hambleton were worried that the floodwaters would lead to their village becoming an island but as can be seen today, a broadway was built leaving a peninsula instead of an island. The 'Old Hall' a hansom Jacobean manor house is the only remaining feature of Lower Hambleton. Anyone visiting the village should take the time to walk down to the water's edge and admire this ancient property perched on the shore of the reservoir – but don't ask how to purchase this unique house as it is held in trust and can never be sold.
According to local hearsay, the more modern properties on the periphery of the village were built by residents whose homes had been flooded and were 'gifted' the plots as compensation for losing their homes to a watery grave. Some sold these on for a fraction of the price, wrongfully believing that the presence of the new Rutland Water would detrimentally affect the price of properties overlooking the water.
It is reported that Noel Cowell frequently stayed in Hambleton during the 1920s and 30s and he apparently wrote Hay Fever during one of his stays.
Property in Rutland
Rutland is a small county with only a limited number of homes available to buy and the most desirable properties are usually sold discreetly meaning you need to be 'in the know' to learn of the very best opportunities.
With a wealth of local knowledge and considerable experience in sourcing and acquiring property across the East Midlands our team of seasoned property finders are well placed to assist with a property search in Rutland and more specifically sourcing homes that are 'unavailable' to the majority of buyers.
To discuss your search requirements and our services in greater detail please contact us, we would be delighted to assist with your search for a property in the East Midlands.